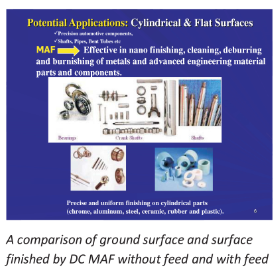 Indian Patent Applicaton No:
Overview:
Design and fabricate a Lab setup to enhance the performance of pulsating M agnetic Abrasive Finishing (P-FMAB) compared to the performance of Static FMAB (S-FMAB) so that the finishing rate is improved substantially.
Key Features:
The very important advantage of the invention is the stirring effect/remixing of abrasive within FMAB which enhances abrasive cutting edges due to formation and partial breaking of the cutting brush.
Applications:
The applications of super finishing are in the finishing of bearings, precision automotive components, shafts, artificial hip joints, and similar other components
It is very much useful for deburring and micro deburring of batch production.