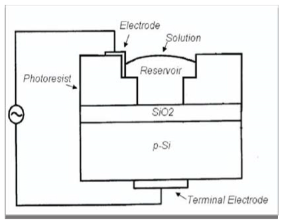 Indian Patent Applicaton No:
Overview:
Enhancing the sensitivity in electrolyte-insulator-semiconductor (EIS) based sensors.
Key Features:
A cost effective fabrication method for a dielectric material that enhances the sensitivity of an electrolyte-insulator-semiconductor (EIS) device.
The novelty lies in the tunable texturizing of the dielectric surface with nano-/meso particles. This enables improvement of the sensitivity.
The process fits into the semiconductor manufacturability processing scheme.
The design enables miniaturization.
Applications:
The device is a miniaturized pH meter capable of handling small volumes (~ microliters) which are not possible in conventional pH meters.
For analytical testing/ detection: Pharmaceutical/biomedical, Chemical Process, Food/Beverage and Environmental Testing etc.