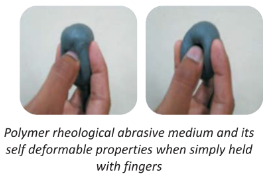 Indian Patent Applicaton No:
Overview:
Method of preparing polymeric composition comprising of multiple polymers, rheological additives and abrasive particles to nano-finish simple to complex internal as well as external surfaces.
Key Features:
Cost effective medium composition for nano-finishing of complex component's internal/external surfaces.
Surface finishing of AL alloy/ SiC metal matrix composites.
The average 'out-of-roundness' of AISI 4340 hard steel circular tubes is improved from 3.38 pm to 1.56 pm (i.e., 54% improvement) when finished with this medium.
The single midium can be used for finished of macro and micro holes/components.
Applications:
Medical industry: Finishing of knee joint, hip joint, heart valves etc.
Aerospace: Finishing of turbine blades, turbine blade turbulent holes etc.
Automobile: Finishing of fuel injector nozzles, engine cylinders, etc.
Deburring, radiusing and finishing of machined castings, and extrusion dies, etc.