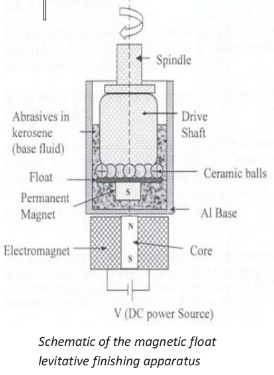 Indian Patent Applicaton No:
Overview:
Nano form finishing of high speed ceramic balls by magnetic float levitative finishing process with better control of finishing action.
Key Features:
Levitational force is generated by magnetic fluid and permanent magnets it is non uniform in nature and partly controllable.
Two types of magnet schemes are used in this process. First is with one core and one permanent magnet.
For better stability of float and uniformity of forces the magnetic lifting force is generated by multiple electromagnets at the base and permanent magnets on the float.
Better control over leviational forces.
Applications:
   Form finishing of :
Ceramic Ball of varying diameter
Stainless steel Ball of varying diameter.