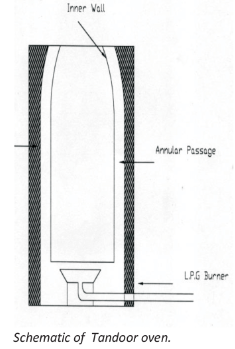 Indian Patent Applicaton No:
Inventors Name:
Overview:
This tandoor oven is an improved version of traditional one which can provide shorter initial heating time, lower emission and cheaper as it uses a LPGgas burner.
Key Features:
A new annular LPG burner is designed and developed to provide hot gases through the annular region of tandoor oven made out of baked mud.
The width of annular passage of tandoor oven is optimized to have better performance.
Number of hole s and its size on the inner casing are optimized to have better ventilation of hot gas and baking of roti.
Applications:
The burner can be used by all commercial cooking establishments like hotels, hostels, restaurants.
The burner can be used combustor for drying, and steam generation, large scale boiling etc.