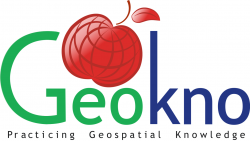 Introduction:
Geokno India Pvt. Ltd. is a spin off from IIT Kanpur promoted by Dr. Bharat Lohani and Mr. N. Balaji, from Geoinformatics lab of IIT Kanpur. The company was incubated at IIT Kanpur in 2006 and was acquired by GMR Group, one of the infrastructure major in India, in 2012. Geokno draws its strength from the rich research and development traditions of IIT Kanpur. Geokno stands on a solid foundation of Geospatial knowledge, extensive experience of its promoters and innovative, intelligent and energetic young members. Company focuses at innovative and path-breaking solution development using laser scanning from airborne, terrestrial and mobile sensors, and the WebGIS. Over a limited period of time Geokno has completed some of the very exciting projects on the use of laser scanning, e.g., 3D modelling of urban infrastructure, mine surveying, high rise chimney as-built, Dam spillway profile measurement, 3D modelling of heritage monuments, large area large scale laser scanning survey, airport GIS solution etc. Geokno was awarded ISBA award for the Start Up of the Year 2011 in ICT Category.
Products & Services :
Airborne LiDAR data capture

Mobile mapping using laser scanning

Terrestrial laser scanning

3D modeling
----  As-built modeling of high rise chimneys
---- Heritage documentation
---- As-built modeling of large dams
---- Plant as-built mapping

Large scale mapping

Large area large scale mapping using laser scanning

Difficult terrain mapping, e.g., Hydro-power sites in high altitude, Railway yard mapping.

GIS/WebGIS solution

Airport GIS solution

WebGIS for Campuses

Software development

LASViewer

Solution development on laser scanning and WebGIS for different cases and verticals
Industry catering to :
Railways

Airports

Universities

Industrial development organizations

PWD

State and National Highway Authorities
Founder's Biodata :
Dr. Lohani has 17+ years experience in Geospatial domain. He specializes in the area of GIS, Remote Sensing, land surveying, and especially laser scanning from terrestrial, mobile and airborne platforms. He has completed and coordinated several innovative and award winning research and development projects in these areas and conducted many short term courses. He is a member of several professional bodies including the fellow of Institution of Surveyors, India, Co-Chair at ISPRS WGV/2 and Executive council member at ISRS. He has over 90 publications in journals and conferences and is instrumental in popularizing LiDAR technology in India. He is also on the reviewer/editorial boards of several journals. Dr. Lohani is well connected with the national and international GIS industry leaders and government organizations in India.
Balaji Nagarajan co-founded Geokno in 2009 and serves as Director and Chief Executive Officer. Balaji oversees all the divisions of Geokno and strategically guides the company. He has over-all responsibility for the timely completion of projects, delivery of products and services of Geokno. This includes responsibility for people, services and external and internal operations. Balaji has more than two years of experience in the technology sector with significant expertise in a wide range of geospatial domain including GIS, Remote Sensing, Image Processing as well as Lidar. Prior to founding Geokno, he severed as a Sr. Research Associate in Indian Institute of Technology Kanpur. Balaji earned his postgraduate degrees in Remote Sensing from Anna University. He has completed his M.Tech research project from IIT Kanpur He holds Bachelor of Science and Master of Science degrees in Physics from Madurai Kamaraj University.
Contact details :
Geokno India Private Limited
(A GMR Group Company)
4th Floor, Phase D IBC Knowledge Park
Bannerghatta Road
Bangalore - 560 029
Tel: +90 4053 3433
Mob: +91 90052 11223