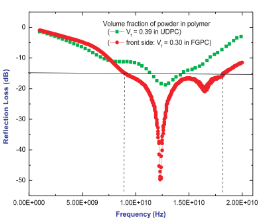 Indian Patent Applicaton No:
Inventors Name:
Mr. Ahankari Sandeep Sureshrao
Overview:
Development of functionally graded polymer composite materials (FDPMsj, having a wide range of band gap in microwave-absorbing range.
Key Features:
Functionally graded polymer structure is made with or without any adhesive layer between stacks of composite structure.
Gradation in polymer matrix has led to broadband absorption and gives high permittivity on the front side and high permeability on the rare side.
Flexible polymer base material is used.
Lesser processing cost.
Applications:
In Military applications like stealth technology.
Usage in automotive industry as in control devices.
Noise resistance of electronic equipments like TV, radio, microwave oven, etc.
To minimize electromagnetic interference in electronic and electrical devices by micro-wave absorption technology.