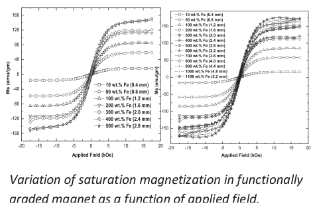 Indian Patent Applicaton No:
Inventors Name:
Mr. Ahankari Sandeep Sureshrao
Overview:
Development of a novel functionally graded magnetic material using polymer matrix, nano/micron sized magnetic materials and other chemicals. The gradation of nano/micron particles comprises a varying particles size and weight% in rectangular and cylindrical and other complex geometries.
Key Features:
Magnetically anisotropic functionally graded sheets are used for firm holding.
A multilayered functionally graded magnetic structure is possible without any adhesive layer between them.
The base material used is polymer so that it can be easily clipped and conform to different structures.
A wide range of gradation is possible., 0 to 1200 % by weight.
Applications:
Automotive: (Starter motors. Anti-lock braking systems (ABS), etc)
Electronic and Instrumentation: (Sensors, Contactless switches, NMR spectrometer, etc)
Industrial:(DC motors for magnetic tools, Robotics, etc)
Biosurgical: (Dentures, etc).