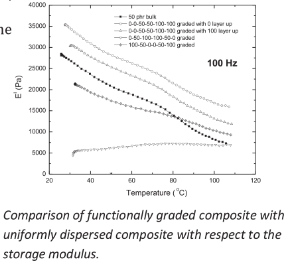 Indian Patent Applicaton No:
Inventors Name:
Mr. Ahankari Sandeep Sureshrao
Overview:
Process to manufacture Functionally graded materials (FGMs) comprising of rubber/elastomer matrix, rubber chemicals and filler, through a simple and inexpensive technique to manufacture the same.
Key Features:
Properties made to vary with outer and inner dimensions of the increasing or decreasing order.
300% improvement in Young's modulus with respect to the homogeneous nanocomposites is observed.
These have high mechanical strength, good weight ratio properties, good theromoformability and large-volume production capabilities.
Applications:
Composite manufacturing including polymer matrix like thermoplastic, ceramic matrix, carbon matrix, metal matrix, etc.
Applications are in automobiles, aircraft, spacecraft, sports, tires.
Bio-medical applications like flexible tubing for pacemaker leads, vascular grafts and catheters.