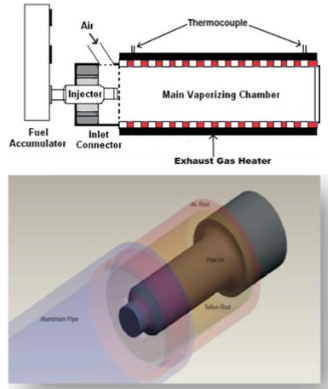 Indian Patent Applicaton No:
Inventors Name:
Mr. Akhilendra Pratap Singh
Overview:
Fuel vaporizer for obtaining homogeneous air- fuel mixture for homogeneous charge compression ignition [HCCI] engine.
Key Features:
Fuel Vaporizer for preparing homogeneous mixture of fuel and air using waste heat from engine exhaust, which converts liquid fuel droplets into fuel vapor.
Fuel is sprayed into a pre-chamber whose walls are heated by engine exhaust.
Fuel droplets of the spray impinge on the chamber wall, and vaporize owing to the elevated chamber wall temperature.
High velocity air stream is optimally supplied into the chamber, inducing improved air-fuel vapour mixing.
The improved homogeneity of the mixture thus forms combustible charge suitable for HCCI combustion, thereby improving the efficiency of HCCI combustion.
Simultaneous reduction of NOx and particulate matter (PM) to ultra-low emission levels.
Applications:
Application of this device is in achieving HCCI combustion in internal combustion engines.
Automotive majors may be the end user for this because this technology will be helpful in meeting stringent emission norms.