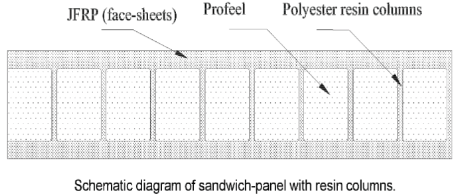 Indian Patent Applicaton No:
Inventors Name:
Overview:
Development of jute fibre reinforced sandwich composites which can be used as sheeting covers.
Key Features:
Reinforcing fibers are cost effective and widely available natural fibers.
The layer of natural fibers forms the outer covering on both sides, a foam, which is not chemically attacked by the resin employed, forms the middle layer or the core structure of the panel.
The resin forms columns passing through the foam layer and joining the two outer natural fiber layers to forms a composite structure.
Applications:
Micro, Small and Medium Enterprises (MSME) segment of the Indian economy is very vast, very large number employed, can take the concept and develop many products like doors, table top and thin panel as per customer requirement.