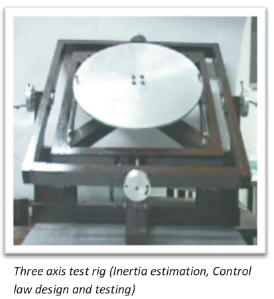 Indian Patent Applicaton No:
Overview:
Estimation of the mini-helicopter inertia and centre of gravity location.
Key Features:
A three DOF test rig which has locking devices to lock any or all oscillatory motions. Three pairs of linear springs are used to retain the motions about the three axes.
 Natural frequencies were measured by employing Inertial Measurement Unit [IMU] which has two traids of accelerometer and rate-gyro.
Least squares method is used to estimate the inertia and CG location of the mini-helicopter.
The invention is simple in construction and efficient.
Applications:
Automobile, Aerospace and Aviation industry.