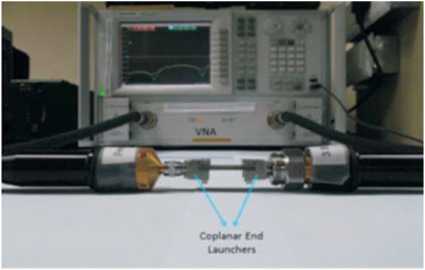 Indian Patent Applicaton No:
Overview:
Non-invasive and Non-Destructive Coplanar Microwave Sensor for Dielectric Measurement of Liquids and Granular Materials at RF and microwave frequencies.
Key Features:
The test specimen is filled into a disposable container beforehand thus avoiding any direct contact between the sample and the designed sensor or the electronic circuitry. 
Requires the measurement of the reflection and transmission coefficients using a vector network analyzer by connecting the sensor loaded with the test specimen between two ports of the analyzer through appropriate transitions.
The dielectric properties of the test specimen are determined in terms of the measured reflection and transmission coefficients using standard mathematical algorithms.
Applications:
Suited for viscous liquids such as resins, whose dielectric properties are important for microwave heating and material processing applications.
In Agricultural and food industry for finding adulteration & contamination for products such as oil, milk etc.
In the biomedical field, for testing of blood samples.