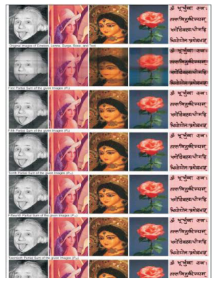 Indian Patent Applicaton No:
International Patent No. Date:
Overview:
A method to enhance the device lifetimes of still images and videos using separable nonnegative matrix series representation of image data.
Key Features:
Collective simultaneous addressing of the elements (in the context of addressing 2D arrays of elements) overcomes the problem of lower lifetime, flickering and reduced performance
Reduced time of loading of the data
In the context of Organic Light Emitting Diode (OLED) based display arrays, this can lead to enhanced device, and hence, array lifetimes, as well as enhanced display brightness and contrast
This approach of full frame addressing can be applied in any situation in which the values inserted sequentially in to the array are perceptually integrated by the eye
Applications:
For colour OLED displays, it enhances device lifetimes, as well as display brightness and contrast.
This multi line addressing (MLA) has been described for reducing the power consumption and increasing the relatively slow response rate of LCDs.