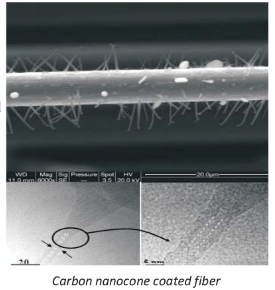 Indian Patent Applicaton No:
Inventors Name:
Mr. Ariful Rahman
Mr. Niranjan Patra
Mr. Sanjay Dasgupta
Overview:
Process for uniform coating of carbon nanocones [CNCs) on long/short carbon fiber(s)/fabric using various transition metal catalyst.
Key Features:
The invented nanocones arrays represent a high aspect ratio structure (~5pm long].
The vertically aligned nanocones arrays have greater mechanical stiffness due to that, these nanocones can be used as nano syringes or dip-pen lithography tips.
Simple thermal chemical vapour deposition method is used to produce nanocones.
Single catalyst (transition metal] is used for the synthesis of nanocones.
Applications:
In structural applications related to the areas in agriculture, aircraft and aerospace, corrosion resistant equipment, marine applications etc.