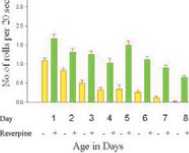 Indian Patent Applicaton No:
Overview:
Identification of a drug to extend lifespan and more importantly for protection against neurodegenerative diseases
Key Features:
The composition reserpine.
Modulates neurotransmitter release.
Delays aging.
Increases stress tolerance.
Increases lifespan.
Provides protection against neurodegenerative disease causing toxicities
Applications:
Evaluate against fatal neurodegenerative diseases in patients.
Determine the age delaying effects in various commercially important animals like horses, sheep etc.