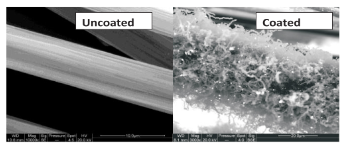 Indian Patent Applicaton No:
Inventors Name:
Mr. Prahbat K.Agnihotri
Sanjay Dasgupta
Overview:
It enables growing of carbon nanotube on the surface of carbon fiber to use outstanding properties of carbon-nano-tube i.e., Young's modulus of 1.25 TPa, tensile strength of — 100 GPa and thermal conductivity of 37,000 w/mk.
Key Features:
Unlimited length of substrate.
Uniform coating and excellent modulus in composite structure is obtained.
Length and diameter of carbon nanotube can be varied within the range 10-20000 nm and 1-60 nm respectively.
Insitu process with less production cost.
High electrical conductivity is obtained.
Applications:
This new generation material has immense applications ranging from aerospace, automobiles, medical applications, heavy machinery, space materials, chemical, civil engineering industries, etc.