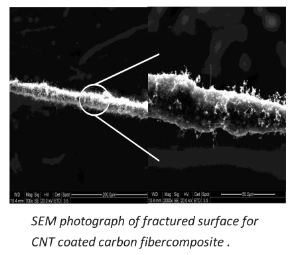 Indian Patent Applicaton No:
Overview:
Hybrid nanocomposite using polyester resin and nanoparticle-carbon-nanotube coated carbon fiber. This composite is more thermally stable, electrically conducting and shows significant improvement in modulus.
Key Features:
Outstanding mechanical properties of carbon nanotubes are obtained (Young's modulus of ~1.25 TPa, and Tensile strength of ~ 100 GPa] in a structural hybrid composite.
Problem of dispersion in the matrix is avoided as carbon nanotube are need not to be added during fabrication.
Excellent thermal stability and mechanical properties are obtained.
Applications:
Wide ranging applications from aerospace, automobiles, medical applications, heavy machinery, space materials, chemical, civil engineering industries, etc.