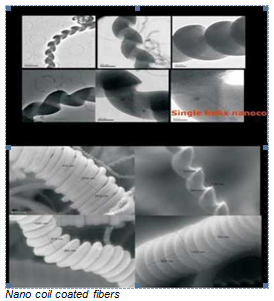 Indian Patent Applicaton No:
International Patent No. Date:
Overview:
Process for uniform coating of carbon nanocoils (CNCs) on long short glass fiber(s)/fabric using various transition metal catalyst(s).
Key Features:
For the synthesis of CNCs, simple thermal CVD is used providing uniform coating.
Size of the substrate is unlimited, hence can be used in structural application.
Better electrical conductivity and thermal stability is obtained.
The synthesis of CNCs on glass fiber(s)/ fabric helps to make strongest composites.
Applications:
Micro electro Mechanical systems (MEMS).
Actuatuators.
Electromagnet wave absorber.
Electron emitter.