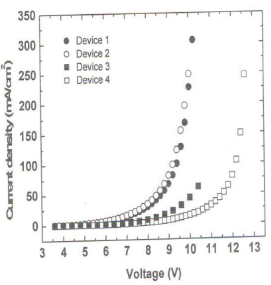 Indian Patent Applicaton No:
Inventors Name:
Mr. K. N. Narayanan Unni
Ms. Girija S. Samal
Overview:
Improved efficiency of a blue OLED by introducing multiple hole transport layer and emitting layer interfaces.
Key Features:
Reduce the total current and to improve the light output so that the current efficiency is improved.
Blue Organic Light Emitting Diode with improved efficiency by stepwise insertion of HTL into EML thereby achieving multiple HTL/EML interfaces in the EML.
Improved the overall performance of a full color OLED display.
Applications:
Full colour displays.
Lighting sources.