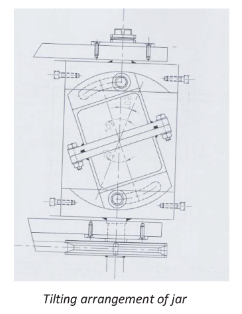 Indian Patent Applicaton No:
Inventors Name:
Mr. Prem Prakash
Mr. Tapendu Mandal
Overview:
A new kind of milling apparatus with optional tilting arrangement which enables grinding, mechanical alloying and reducing the hard and soft materials to ultra-fine or nano-sized powders with more uniform size distribution.
Key Features:
This invention describes a new apparatus called High Energy Variable Transmission Ratio Multi Tilt Planetary Ball Mill
It consists of cylindrical containers evenly placed on the gyration arm.
The containers rotate and revolve about different set of axes [Gyration axis, Jar axis and Jar rotation axis]
Transmission ratio can be varied by varying the speed of jar and gyration arm independently Different tilting arrangements have been introduced, such as [a] Zero tilt,[b] Jar axis tilt, (c) Jar rotation axis tilt, [d] Both jar and jar rotation axis tilt, [e] Gyration axis tilt.
Different tilting combination increases randomization in ball movement and facilitate more homogeneous particle size distribution.
Controlling milling environment gives a better flexibility to mill different types of materials.
Applications:
This new kind of ball mill can be a very attractive apparatus in the field of nano-materials, particulate material, high energy milling, mechanical alloying, pharmaceutical companies, powder metallurgy companies, automobile industries, cutting tool industries etc