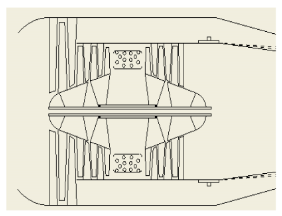 Indian Patent Applicaton No:
Inventors Name:
Mr. Mukul Atri
Mr. Sriram Ganesan
Overview:
Focuses on reducing the jet noise.
Key Features:
Implementation of high pressure differential in the case of turbo fan engine with a high bypass ratio to bleed off a portion of bypass flow into the core flow.
The provision of bleeding a part of the bypass flow to the core flow results in a significant reduction in jet noise.
It constitutes "After Dilation" to make use of the pressure difference between the bypass and the core to mix a portion of the bypass air stream with the core flow, thus effectively mixing the flow and increasing the thrust.
"After Dilation" smoothens out the velocity profile, thus decreasing the velocity gradient and hence the jet noise, which contributes a large part to the engine noise.
Applications:
For reducing the jet noise and improving the fuel efficiency of turbofan engines.
Potential scope of applicability in power generation using gas turbines.