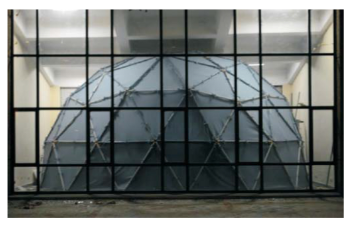 Indian Patent Applicaton No:
Inventors Name:
Ms. Nidhi Pashine
Mr. Akshat Singhal
Mr. Shubham Gupta
Overview:
A Small affordable and modular planetarium build using plywood, PVC pipes and cloth which uses a spherical mirror projection system.
Key Features:
A low cost modular structure, made up of PVC pipes (struts] and pyramidal plywood hubs which act like connectors.
Did not involve any industrial process.
Uses a single spherical mirror LCD projection system (to cover the entire dome) and a cotton cloth for the screen.
Applications:
As an educational tool to simulate the night sky in a backyard planetarium.
As a simulator for training purposes for simulating different geographical terrains.
For entertainment: to create a 3D immersive and interactive environment/ gaming (using motion sensing devices).