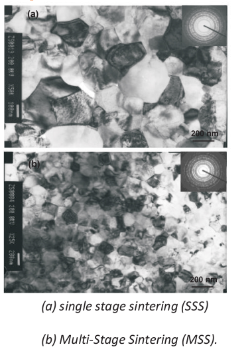 Indian Patent Applicaton No:
Overview:
Multi-stage spark plasma sintering to develop dense materials with better and uniform mechanical and tribological properties in both conducting and non-conducting ceramic.
Key Features:
It addresses 'controlled spark discharge' by holding powder compact at intermediate stages prior to sintering temperatures via Multi stage sintering (MSS) for different non-conducting ceramic materials.
The method includes maintaining a powder compact up to one/more intermediate holding temperature for different timescale before holding at the final sintering temperature in a spark plasma sintering chamber, as opposed to directly heating to a sintering temperature in a conventional sintering process .
Applications:
Electrical Insulators.
Seal faces and valve sates.
Orthopaedic implants.
Refractory and armor applications.