The School of Medical Research and Technology
IIT Kanpur has a long history of successfully attempting innovative approaches, technology, and projects impacting society at large. One such innovative approach of IIT Kanpur is the School of Medical Research and Technology (SMRT) in Kanpur, housing a super-specialty/tertiary-care hospital with state-of-art R&D Centers of Excellence for medical technology, technological solutions to unmet medical needs, and healthcare research.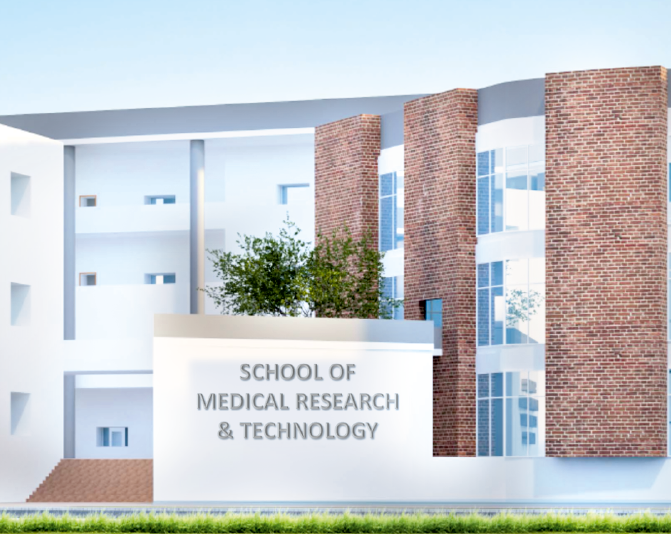 Proposed Structure
Fostering Convergence of Medical and Engineering Research to Drive Innovations in Healthcare and Medical Technology – Biomedical research and MedTech innovations thrive in the transdisciplinary ecosystem, however medical Institutions in India are mostly "stand-alone" colleges. Such schools do not offer joint appointments as faculty for professionals from non-medical disciplines (it is common in the West)- an essential requirement for research and MedTech innovation - and have inadequate research infrastructure & specialists (even on Indian standards). Unlike in the West, practicing doctors are not active researchers perhaps due to heavy patient load. Very few medical professionals take up research or entrepreneurship as career options (common in engineering and science streams) and there are very limited options for non-medicos to take up clinical research in India due to the "perceived" boundaries around the disciplines. Thus, there is a large knowledge gap in MedTech innovation and entrepreneurship activities in the country though there is heavy demand in the market for such products.
Center Of Excellence
Telemedicine & Robotics
AI Applications In Diagnosis & Disease Prevention
Cardiovascular & Pulmonary Disease Research
Cancer Research
Orthopaedics & Prosthetics
Neuroscience, Neurotechnology & Mental Health
Non-invasive Medical Imaging & Diagnostics
Considering the importance of interface of biology and engineering in future medicine, IIT Kanpur established the Department of Biological Sciences and Bioengineering (BSBE) in the year 2001 and has been offering B.Tech, M.Tech, and PhD programs in these areas. Besides, over 40 faculty members from the other departments of the Institute are working in MedTech and allied areas. The Institute has established a strong innovation and incubation ecosystem. The Startup Incubation and Innovation Centre (SIIC) of the Institute is one of the world-class incubation centres with multiple success stories. Presently, the SIIC supports over 20 start-ups in the Biotech and MedTech domains alone. The Institute has established a Fabrication and Certification Center or MedTech devices and a state-of-the-art Central Experimental Animal Facility for pre-clinical studies on campus. It has attracted funding from the Department of Biotechnology to set up a School of Biodesign to promote Innovation and Entrepreneurship activities in the biomedical domain. Thus, the ecosystem is ideal for the launch of the SMRT project. The SMRT project will be completed in three phases. Phase I of the project will include setting up a 500-bed super-specialty hospital along with the Centers of Excellence (CoE) for pursuing R&D activities in futuristic medicine. The school will also be offering post-graduate medical degrees after due approval from appropriate regulatory bodies.
Current status
An advisory board for the SMRT has been constituted. A task force for Infrastructure planning, fundraising, R&D, and regulatory clearance has been constituted. Centers of Excellence and R&D Roadmap blueprint are being defined. The Institute is working on architectural drawings and financial models. SMRT is a unique project which will be developed with support from philanthropists, IITK alumni,corporates, and government agencies. The Institute has already attracted substantial funding for the SMRT project. Two of them being the US$ 2.5 million from the Micky and Vinita Pant Charitable Foundation [Founder Muktesh Pant (BT/ChE/1976)] and the Rs. 15 cr. CSR grant from REC Limited.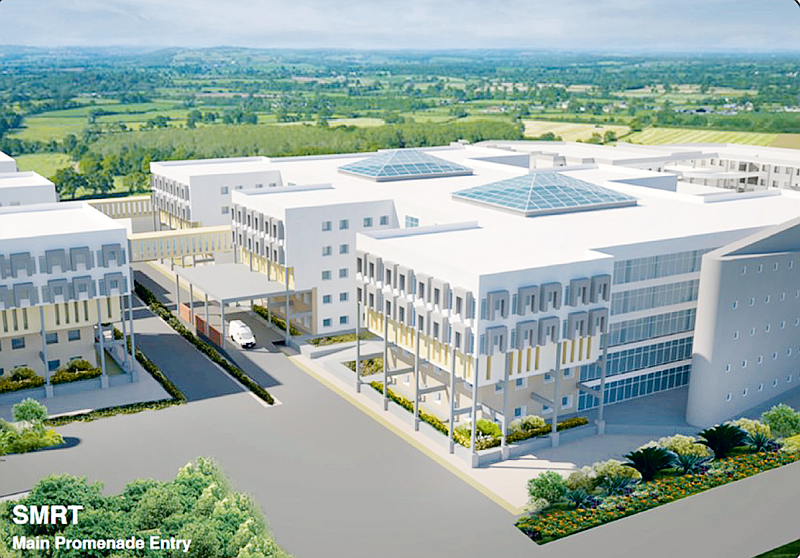 Proposed Structure